Technical data
Tyres are the only parts of the vehicle, which are in contact with the road. Safety in acceleration, breaking, steering, and cornering – all depends on relatively small area of the road contact.
It is therefore of paramount importance that tyre should be maintained in good condition at all times.
Maintain correct inflation pressure.
Check periodically for misalignment, balance, and mechanical irregularities.
Regular maintenance f steering and suspension components
Avoid harsh breaking. Rapid acceleration. and fast cornering.
Do not over load.
Retread the tyres with Teeson precured Treads.
Requirement of a Tyre
Types of Tyres
Tyre ply Rating
Tyre positional Rotations
Keep up the pressure
Cushioning ability
Tyre dimensions
Maximum load carrying capacity
Durability
Corning and stability
Low rolling resistance
Tyre pneumatics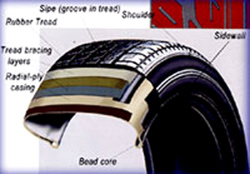 Tyres are manufactured in three different types of construction
| | | |
| --- | --- | --- |
| Cross or Diagonal ply | Radial | Bias-Belted |
| | | |
| Cross ply tyres have textile casing cords running diagonally from head o head | Radial ply tyres may be either steel or textile braced. | Bias Belted tyres have textile causing cords running diagonally and a belt of textile cords under the tread. |
How to find the Dimensions?
Example:
| | | |
| --- | --- | --- |
| W (Inches) | D (Inches) | W*D |
| 10 | 20 | 10.00x20 |
| 7 | 15 | 7.00x15 |
| 6 | 16 | 6.00x16 |
Tyre Ply Rating is used to identify a given tyre with its maximum recommended load when used in a specific type of service. It is an index of tyre strength And does not represent the number of codes plies in the Tyre.
Rotations is always advisible for uniform pattern of wear on all wheel positions to achieve optimum Tyre life.
The advantages of correct inflation pressure are: Long tyre life, Optimum fuel consumption, Reduced slip, comfort.
Under Inflation
Crrect Inflation
Over Inflation

20% under inflation means 26% reduction in mileage!
Under inflation No.1 Tyre killer
Under inflation permits excessive flexing, which builds up heat, weakering rubber and fabric causing premature tread wear.
Basic Tyre Patterns
Correct Mounting Of Twin Tyres
What Is Retreading?
Tread wear
Defects of Casing, Which Should Be Rejected For Retreading
Mechanical Problems that cause irregular wear of tyre
New Methods to find out Defects of Casing
Tyre o be twined should have the same diameter
Having fitted and inflated the tyre, check that they are of similar diameter by comparing their heights when placed along side each Other of a flat surface or new string gauge, large L-square. Difference up to 30mm for 9.00-20 and up is permissible.
They should be inflated to the same pressure.
Retreading is the general term for tyre reconditioning which extends the useful life of the tyre by the addition of new material.
Area 1: Top-Capping
Area 1& 2: Recaping
Area 1, 2& 3: Remoulding
Higher the speed the more rapid the tread wear particularly when cornering.
Fierce acceleration, hand braking
Mechanical irregularities
Incorrect pressure and incorrect wheel alignment
Abrasive road surface consisting of gravel and chipping
Hill area with winding road
Climatic conditions
On dry road in summer, treads can wear twice as fast as in winter or rain
The slower tread wear in winter or rain is influenced by the lower running temperature and lubricating effect of water between tyre and road
Tread or side wall seperation
Ply seperation
Cords, belt exposed for a large area due to excessive wear
Crown Break
Broken or Damaged bead wires
Two cuts which are close to each other
Injury is close to the bead area
Weakened condition due to age, heat, oil or solvent soaked
Reject unless the cracks on tread design grooves can be removed completely by buffing
Incorrect camber angle
Worn or loose wheel bearings
Excessive brushing wear
Worn tie-road ends
Broken springs
Wheel Bolt hole elongated
Ring Clamps or Studs loose
Misalignment
Out Of Round rims or wheels
Unbalanced wheels
Improperly Matched duals
Grabbing Brakes Brake Drums out of range
Badly Adjusted Brakes
Worn or Bent Steering Joints
X-rays
A special head scans the casing and in turn an image is produced on a screen similar to a television screen
Holography (laser photography)
Photographs are taken of the inside of the casing
Tyre exerciser
A machine, on which a casing is mounted, inflated and revolved at speed under load. This action produces heat, the casing temperature being raised high to indicate small separations due to expansion off air
Infra-red
A special sensor head detect small temperature irregularities in the flexing casing
Ultrasonic
High frequency sound waves are reflected by irregularities in a casing.